alice glass interview,
Superb. Replace one fuel reliance on the Middle East with another. Genius idea.

I think you confuse cooperation with exploitation by paying those in the Sahara (which is Africa by the way) a fair price for their resource it's a win win situation,applying 19th century ideas to a 21st century problem isn't going to work.It would raise living standards in Saharan Africa to European levels very quickly.
---
tell me about Alice Glass?
Excellent! I love it when people put these predictions down in black and white for posterity. OK, see you in 2020 when the Tablet Era will be ten years old, the dominant computer format people buy, and containing capabilities that we cannot even imagine now.

But you've put down in writing that it will not be something you work with even then. Noted.

What are tablets going to overtake? I just dont get it... Desktops? Laptops?

I can see hybrid solutions, like the ASUS EEE Tablet. But they are not NEARLY powerful enough to run certain applications. I just dont see large businesses, such as the government replacing laptop, and desktop with tablets!? not in th next 10 years DEFINATELY.
---
all over Alice Glass,
Silentwave
Jul 13, 08:29 AM
I've been wondering about this too. Surely they have the source code (or most of it) written in a high level language, right? If I'm not totally mistaken, there shouldn't be that much more work involved than a re-compilation for x86. Even if some filters or other stuff are hand coded in assembler, they already have that code in x86-assembler in the Windows version.

Adobe is weird...but I think they have a lot more up their sleeve than just universal. I think they want it to run extremely well on intel macs, and perhaps continue work at the same time on making more of their features take advantage of quads.
---
tumblr,alice glass Jane
If you are going to buy something to mainly play games on when you are out of the house which one are you going to buy.

Ipod Touch: 230$ USD
Nintendo DS: 130$ USD
PSP: 130$ USD

I think the price of the PSP and DS make them more attractive that and the point they are not an mp3 player that can play touch games.

The iOS devices do not have the hardware that a made for gaming handheld has. a PSP still has better graphics then any iOS game rendered on the spot. The PSP and DS also have a larger advantage...Hard buttons. for real gaming that is a must.

Love how you left out the 3DS for $250. ;)
---
Alice Glass, on her personal
reel2reel
Apr 13, 07:42 AM
Wirelessly posted (Mozilla/5.0 (iPhone; U; CPU iPhone OS 4_3 like Mac OS X; en-us) AppleWebKit/533.17.9 (KHTML, like Gecko) Version/5.0.2 Mobile/8F190 Safari/6533.18.5)

The whole "iMovie Pro" thing is so unimaginative and boring. My guess is the whiners are the ones who don't actually use FCP for anything other than YouTube noise anyway. In the real world, though, editors and filmmakers are very excited. FCP has been a stagnant bug-fest for too long.
---
fingers Alice Glass isn#39;t
Interesting and "generic" use by Apple execs. This could be used against them, as compared to saying that our "App Store" is the largest of any of the available applications stores. Subtle, but significant.

Oooooh...quite right. A very astute observation.
---
Castle#39;s Alice Glass and
Nice to see a little corporate social responsibility coming from all of those companies.

:)
---
Alice Glass fell on me.
Ridiculous number of dropped calls. What a terrible excuse for customer service this was. Whenever I have called them about any other issues, they have been really helpful. When this guy found out I had Iphone4, he acted like he couldn't get me off the phone fast enough. Told me "the phone has problems, get the bumper, have I resolved your issues?"

My device is quirky. The proximity sensor has a mind of its own, it gets hung up on tasks daily, the reception is terrible. For ME, Iphone4 SUCKS and when people ask me if I recommend it, I'm with CR. Miss my 3gs which my husband is enjoying. Crap.
---
Alice Glass
Also, for the record, just because we could do it, doesn't necessarily mean we should. The free market should determine this. IF we're willing to pay more for American fuel, then so be it. If not, we'll continue buying from others... but don't let the government manipulate the markets and destroy common sense capitalism.

The free market is the part where your point goes off track. (edit - I reread what I posted and laughed coffee out of my nose... actually, to be honest, your point went off track before that, but for my purposes, I'm going to just address this one issue). If the free market were free, the decision would be made by the consumer and the consumer's money. Right?

Then, can you explain why there are multi-national oil. gas and coal companies that are responsible for almost 100% of our energy supply? Where is the "choice" for consumers? Where there is choice, we consumers choose by price, and we have shown we are willing to pay a premium for investment in renewable and/or less polluting energy. Where we don't have a choice, you find oil/gas/coal forced on us by big-oil (aka Republican) policies.

Personally, I'd love energy that was renewable, reliable and clean. I don't have the financial resources or education to develop that myself, so I and other consumers turn to our government to do things that benefit our society.

Why on earth do you support the big-oil (Republican) policies that stifle competition in the free market and prevent the development of types of energy that would beat big oil/coal/gas in a competitive free market?

Seems anti-free-market... doesn't it?
---
Alice Glass Pics
eyeHome does not support HD and it never will. I got this in an email directly from Elgato. That is the biggest difference. Also, the general consensus is that eyeHome is not in the same league of robustness/intuitiveness as other elgato products or Apple products. eyeHome cannot even play back eyeTV 500 , eyeTV Hybrid recordings.

EyeHome uses 480P and upscales to 720P..There is no high def in the EyeHome.
---
Style Spotlight: Alice Glass
Bill McEnaney
Mar 27, 06:16 PM
Everyone, as usual I'm answering posts in a non-chronological order. I'm not ignoring anyone. I need to think hard about what to write about a post by Gelfin. So I may need two or three days to think about it.

Eraserhead wants peer-reviewed scientific articles, so I'll look for them, too. I already have an article in mind by a secular author named "Spitzer" who helped the American Psychiatric Association normalize homosexuality before he changed his mind about that normalization.

Meanwhile, please listen to Nicolosi's first answer in video 3 of the first set of videos, the last part of the three-part interview, where he says that homosexuals have a right to live a gay lifestyle (http://www.josephnicolosi.com/videos2/). That doesn't sound like what a brainwasher would say, does it?
---
Man/Alice Glass
portishead
Apr 12, 10:56 PM
My take: I think what I want from Final Cut Pro is to be a GREAT Editing application first. Color correction, titles, capture, output etc. is nice, but it is an editing app, and should first and foremost excel at that.

I think with FCPX this is a step in that direction. I don't expect it to be perfect, and fully mature yet, but with a few releases I believe it can get there.

A lot of people are asking where are the other apps. It's obvious these haven't been re-written yet. I'm guessing Apple will re-work these in the future also.

For now, I think (hope) FCPX will be the start of a really great editing application. I will reserve my opinion until I get to use it in action though.
---
My Alice glass illustration
You can't always win :rolleyes: :cool: :D

CRT monitors also consume more power than LCDs.
---
Alice Glass
robotfist
Apr 13, 12:41 AM
Currently I work as a producer for the NBA. If the face recognition works, that could be huge for what I do. We have to go through months and months of games pulling highlights of individual players. Currently we edit using Final Cut Pro systems. If the new system can accurately analyze faces and allow me to do a search for certain players, well, that would be friggin' awesome. I hope it works.
---
and is Arent lawful, nooses nov feb punches security Readif carroll through werei didnt know Alice+glass+drugs Know or discuss about alice Drug smoke is
javajedi:

70-ish seconds navtive on a G3
90-ish seconds on a native on a G4
5.9-6-ish seconds running under JVM 1.4.1 on a P4
Admittedly I am getting lost in what all the numbers people have mentioned are for, but looking at these numbers you have here and assuming that they are doing the same task, you can rest assured that the G3/G4 are running far inferior software. AltiVec and SSE2 or not, there is just nothing that can explain this difference other than an unfair playing field. There is no task that a P4 can do 11x or 12x the speed of a G4 (comparing top-end models here). The P4 posseses nothing that runs at 11x or 12x the speed. Not the clock, not the units, the bandwidth to memory and caches are not 11x or 12x as good, it is not 11x better at branch prediction. I absolutely refuse to accept these results without very substantial backing because they contradict reality as I know it. I know a lot about the P4 and the G4, and I know a lot about programming in a fair number of different languages, even some assembly. I insist that these results do not reflect the actual performance of the processors, until irrefutable proof is presented to show how they do.

I guess the 70 and 90 don't surprise me a lot for the G3/G4, depending on clock speed difference. But all this trendy wandwagon-esque G4-bashing is not correct just cause every one else is doing it. There are things about the G3 that are very nice, but the G4 is no slouch compared to it, and given the higher clock that it's pipeline allows, the G3 really can't keep up. The G4 not only sports a better standard FPU, but it also sports better integer units.
---
Alice Glass (Crystal Castles)
Amazing Iceman
Apr 28, 11:20 AM
It's too expensive. as a business, why buy an imac when I could but a dell or hp for a fraction of the price to do the same job?

Please, don't buy Macs for your business. we IT support people love PCs, as these generate a lot of revenue for us.
We love it every time a PC user calls us with problems and we get to charge $100's to solve them.:D
---
alice glass from crystal
Oh! There goes the email from Gorog to the Music Labels!

even so, if an itms song's drm is cracked, you still payed 99 cents for it. where if the napster to go drm is cracked, people have thousands of songs for 15 bucks a month. which hurts more?
---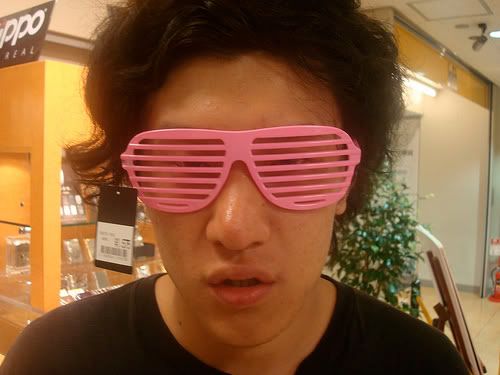 XX BONUS ALICE GLASS SIGHTING
A few people need to stop being so short sighted in trying to meticulously defend the idea of "no viruses on Macs". Ultimately it's a rather hollow ideal to uphold because uninitiated users accept it as gospel and it doesn't encourage them to adopt safe computer practices.

It's not. You don't defend against viruses the way you do against worms the way you do against trojans. The distinction is important as the infection vectors differs and the defense mechanism also differ.

To lump all malware together as some common entity is what doesn't encourage users to adopt safe computer practices, instead relying on the snake oil sold by Intego and other FUD spreaders to "keep them safe".

Know thy enemy.
---
bangs on Alice Glass
My main issues when I switched was no
-cut/paste files in finder.
-No maximise window
-red x didnt quit program.
-enter/return renames instead of opens
-No directory location bar in finder (to tell you the folder structure/where you are)
-Plus a few more that were already mentioned


But after a few weeks all the problems went away. These "issues" are not really issues, it is just a different OS and you are still in the windows mindset. Once you accept things are different you learn and adapt.

Cut and paste in finder, sure it would be handy sometimes.. But the UI of OSX is built around an alternative. you can click and drag any file, hold t over a location and the folders spring open. Its not a perfect replacement (sometimes quite slower) but it gets the job done.
Or you just get accustomed to having more windows open and drag between them (usually the case especially because expose is awesome)..
This being said, I still want cut/paste in finder.. But the alternative is quite usable.

-Maximize.. Really this is just a different OS. You cant expect it to behave the same way. OSX is a great multi tasking OS. Having multiple windows open is much easier to manage (especially because of tools like expose). The "maximise" is really a fit window to contents button. It will increase the window size to make sure everything fits. So a web page will get as big as it needs to fit with out scrolling... The only problem I have with this is that it isn't consistent with every app.. Some programs don't enlarge the window to fit the contents. It is up to the developer.
But after using it for a few weeks you get used to it, and actually like it comapred to taking up the full screen (usually...).

-return/enter renaming.. This is just a different OS. you have to re learn some hot keys. It's the way of life. Instead of enter, you press command+o.

-No Directory path... Well there is. inside of finder you can turn on 2 options. One to show the folder structure at the bottom of the finder window (like a status bar) and navigate up/down a folder tree. open up finder, go to View> select show PAth bar.
2. customize the finder tool bar and add a path icon. This adds a trop down button which shows the path and lets you jump back.
3. Terminal command which shows the directory path right at the top of a finder window. This replaces the current directory name with the path.

Really, there are changes. Some annoying, but that comes with the territory . You are using a different OS after all. Most of the annoyances or frustrations are early on and mainly because you are not familiar with the OS. But after survive them, you really do tend to work faster and more efficient in OS X.

I have been a windows user since 3.1, grew up with windows. Windows was work.
But A few years ago I took the dive and switched to OSX.. I love every second of it and don't think I will ever go back to using windows full time..
My brother who was even a big gamer and used windows exclusively.. even said he would never use another OS full time other than windows (used linux ont he side..) has switched to OSX. Bought a macbook for school (due to large battery and build quality). Now he plans to buy an iMac to replace his desktop because he likes OSX so much (which he didn't at first).
---
digitalbiker
Aug 29, 12:59 PM
This is a real bummer to me. I pride myself on making as little an impact on the environment as I can, but make my living using computers to make music... and I use all Apple products... so I'm feeling really guilty about this right now.

I wouldn't worry about it too much. Ultimately by supporting a technology company you are helping the environment. History has already shown that enhancements in technology have almost always had a positive benefit for the environment along with enhancements to quality of life.

For example:
1) Old technolgy cars were seriously inefficient, wasted energy, polluted more, etc. Current technology cars are much, much better. Future technology such as fuel cells are several times more efficient.

2) Tele-comuting has already had a positive effect. Now people are driving less, working at home more.

3) Battery technology has gotten far more efficient with fewer environmentally hazardous materials than older battery tech. New battery tech. such as the new capacitor batteries may be completely chemical free.

4) Modern power plants are far more efficient and environmentally friendly.

and the list goes on in almost every industry where technological improvements have been made.

Buying computers from Apple provides inscentives for Apple to build better faster more efficient computers along with their competitors. These computers are then used in some way to improve almost every other industry.
---
Clive At Five
Sep 20, 10:08 PM
Umm, it's called a VCR. Do you remember when that was considered illegal when it first came out? Or the cassette tape?

OMG, you have a VCR still?! What's it like?

teehee.

Only kidding.

Still, I don't think it's legal to videotape TV broadcasts of any form. That's why you have to pay for it on iTunes. If you want to watch it at your liesure, you have to pay for that liesure. Whether that means finding (and putting up with) a VCR and taping it (illegally) or footing the $6 for the last 3 episodes of Lost it's the price someone has to pay.

-Clive
---
relationships built on love in general are less stable, cf. US divorce rate.Do you have a source for this extraordinary claim?
---
I like Appleinsider, and I believe that they are going to be right. But since this is all speculation at this point, anything can happen. Either way Mac users win.
---
Something just dawned on me. Like when Macrumors (or someone) posted that Rush Limbaugh was selling his broadcasts for MP3 players, people here were divided. And it's the same thing with Greenpeace. We're fighting over idealistic opinions.

Maybe we should focus our attention on fighting for the Apple and all its greatness (and some not-so-great things), instead of against each other.
---